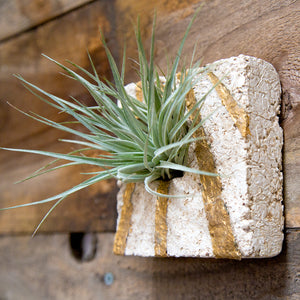 Urban FarmGirls Co
Lightweight Air Plant Sconce - Gold Leaf Starburst Design with Air Plant
Sale price Price $39.50 Regular price Unit price / per
Our light weight durable sconces are perfect for indoor or outdoor gardens. Create vertical green spaces with ease.
Air Plant sconces are a beautiful modern way to display all varieties of Tillandsias. Our hand painted gold leaf starburst adds a twist to your typical air plant mount.
Their shape makes caring for Tillandsias a breeze and keeps the plants happy.
The sconces a perfect for creating a vertical garden, they can be hung or sit on any surface. Our modern organic shapes, handmade from Pozzola have the feel and texture of stone but are ultra lightweight. 
Inject a little Pozzola into your garden decor, ideal for table design, vertical gardens, landscape design projects or give the ultimate green gift.
Comes with airplant.